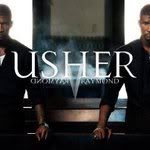 Usher has a new album, titled "Raymond vs Raymond", to be released on March 30th. I hope that does not really happen because I think it will be career suicide for him. I do recall that earlier this year, amongst other things, he had
a laptop of unreleashed songs stolen from his car
. So I'm hoping he pulls an 8701 with this album. Remember that album was pushed back and later released on 8/7/01 back in 2001. Ushers last album "Here I stand" did not do very well at all, like his leading single, selling copies of that CD was like "Moving Mountains". Currently there has to be at least 10 songs leaked from this forthcoming album, which would be over half an album! I have a few of those songs posted below, most are featuring another artist. In fact I have only come across 2 leaked songs that did not feature another artist, he might as welled names the album "Usher featuring...", better yet "Featuring Usher" and only do hooks and ad-lib's.
USHER DON'T DO IT!!
rename the album 8710
Usher Ft. Nikki Minaj - Lil' Freak
Usher - Foolin' Around
Usher - There Goes My Baby
Usher Ft. Ludacris - She Dont Know
Usher Ft. T.I - Guilty
Usher Ft. Will.I.Am - OMG
Read more...